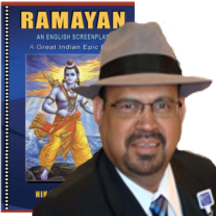 Priya: "Dr. Nik, I understand you just published your third book. Is this another book related to cardiology?"

Nik: "No, this new book is about Ramayan; a screenplay written in English."

Priya: "An English screenplay! On Ramayan? That's fascinating!

Nik: "I had a lot of fun writing this, but I had to take a crash course in writing a screenplay to complete this project."

Priya: "Dr. Nik, what inspired you to write about Ramayan, and why a screenplay?"

Nik: "In 2011, I was involved with the Ram Leela, a three-hour stage-play in Hindi, organized by Dr. Arun Verma, in Houston. As I started to analyze, I realized that there are more than 500 million Indians across the world that speak English (Indian English) and do not necessarily follow the intricate dialogues written in Hindi or Sanskrit by worldly scholars such as Valmiki, Tulsidas, Ramanand Sagar, and others. So, I ventured into writing an English screenplay that every child or parent who speaks English can understand and appreciate the philosophy behind this great story of Ram and Sita."

Priya: "But, why a screenplay?"

Nik: "I thought for a long time how I could write the Ramayan in a manner that is easy to understand, educational, entertaining, and that involves every member of the family. I thought the best way to accomplish that is to write a
screenplay where family members can play these roles in front of other family and friends. In doing so, everyone enjoys and benefits from this great Indian epic: the Ramayan."

Priya: "Is this your first screenplay?"

Nik: "Yes, just about everything I have done appears to be an adventure. When I started writing my first book, 'Stressless Mind & Priceless body,' in the 1990s, it was an expedition of a different nature. But I realized that screenplay is unique in that it lets the reader take the role of any character, which can evoke emotions, feelings, and passions of a different nature. It lets the reader experience the reasoning behind a certain way a character presents or acts, even if the character is not the most favored one, like in the case of Kaikeyi or Manthara."

Priya: "What inspired you to write this screenplay?"

Nik: "As I was researching this project, I visited a number of places on YouTube, and I was fascinated by seeing a number of cultural organizations and school children performing the Ramayan in short segments, in English. I thought, if I write a complete Ramayan screenplay in English, people all across the globe will have a ready-made script. They can choose segments from the book and focus on the presentation."

Priya: "How long is this play?"

Nik: "It is a three-hour play."

Priya: "What do you expect from this?"

Nik: "My primary objective is to spread the story of Ram and Sita and the philosophy behind this great Indian epic to the next generation of Indians who have a common language, such as English, and who can easily understand and appreciate every aspect of the Ramayan. Also, I want them to realize how they can
apply some of the principles from the Ramayan in their own lives when they face similar trials and tribulations."

Priya: "What is the best part you liked about writing this book?"

Nik: "Staring at the computer screen for six to eight hours at a time. Really, writing a screenplay was indeed a new experience, but nonetheless, I have enjoyed it fully. It is directly to the point. There is no fluff. There is no winding around the dialogue or the action or perhaps the author's endless interpretations or interjections. The action and dialogue speak for themselves. You don't need a preamble from an author."

Priya: "What was the most difficult part?"

Nik: "Formatting the screenplay to a book, or for that matter for an e-book, was the most challenging part of writing this play. There is software designed for writing a screenplay. We can't just take it and put it into a book format for general use, because it has to go through so many iterations before it can be put together."

Priya: "What is the best part you liked about the Ramayan?"

Nik: "I liked the part when Shri Ram is to be crowned the king of Ayodhya the next day, and the intriguing dialogue that ensues between Kaikeyi and her old maid, Manthara that changes the course of the Ramayan and defines the very purpose of Vishnu's incarnation as Ram on Earth."

Priya: "Did you find any surprises or any disappointments?"

Nik: "One thing that got my attention the most was the life of Ram Himself. Except for two occasions: one, when he gets married to Sita, and second, when he is crowned as the King of Ayodhya, after killing Ravan; majority of his life is a series of trials and tribulations. The most interesting
part is how he deals with every situation in a positive and uplifting matter, which is the greatest lesson anyone can learn from the screenplay."

Priya: "How does this book differ from your other books?"

Nik: "The first book I wrote was on stress management. There are some similarities in that stress is universal and even God is not exempt from that. But, how Ram deals with challenging stressful situations sheds a lot of light on how we can learn to live despite some chilling challenges in our own lives. Even though this epic is supposed to have happened thousands of years ago, its guiding principles hold true even to this day."

Priya: "Where do you want to go from here?"

Nik: "Dinner would be fine! Well, I would like to see this screenplay transcend into a motion picture that can captivate the entire Hindu population and mesmerize the world about the story of Ram and Sita."

Priya: "Do you really think so? Come on Dr. Nik, this doesn't have all the modern chemistry, action, motives, comedy, betrayal, or the magic like today's movies."

Nik: "Once you read this book, you will be convinced how much human drama, action, magic, power, greed, selfishness, sacrifice, steadfast determination, defection, war plans, mass destruction, engineering a bridge across the ocean, raising kids as a single parent, is packed in this great epic. Do you want me to go on..."

Priya: "I am sure you would like to recite the whole script. You have raised my curiosities so much; I can't wait to get my hands on a copy of this book. Where can I get a copy?"
Nik: "How do you want it? If you want a printed copy for your library collection then you can get it from major books stores like Amazon or Barnes and Noble. I would suggest get one copy for each member of the family as a gift."

Priya: "Do you have an electronic copy. I would like to read it when I am traveling."

Nik: "For people like you, we have a Kindle version which you can download from the Amazon website. We also have an iBook version which you can read on your iPad. You need to download a free app "iBook" to read books on iPad."

Priya: "Dr. Nik it has been a pleasure talking to you about your new book, Ramayan - an English Screenplay. Hopefully, we may have the pleasure of seeing many more adventures of you in the future. It is not only a great gift to the Houston community, but an immense contribution for the enrichment of Indian culture and heritage all over the world."

Nik: "Priya, that's sweet of you. Thank you."

PS: If you would like Dr. Nikam to come to your temple or association and make a brief presentation, or if you would like to get an autographed copy his book, contact:


NIK NIKAM, MD, MHA
Author of, "Heart Healthy Lifestyle"
P: 281-265-7567
drniknikam@gmail.com